Hyundai Accent: Battery replacement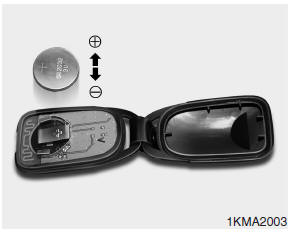 The transmitter uses a 3 volt lithium battery which will normally last for several years. When replacement is necessary, use the following procedure.
1. Insert a slim tool into the slot and gently pry open the transmitter center cover.
2. Replace the battery with a new battery (CR2032). When replacing the battery, make sure the battery position.
3. Install the battery in the reverse order of removal.
For replacement transmitters, see an authorized HYUNDAI dealer for transmitter reprogramming.
CAUTION
The transmitter is designed to give you years of trouble-free use, however it can malfunction if exposed to moisture or static electricity. If you are unsure how to use your transmitter or replace the battery, contact an authorized HYUNDAI dealer.
Using the wrong battery can cause the transmitter to malfunction. Be sure to use the correct battery.
To avoid damaging the transmitter, don't drop it, get it wet, or expose it to heat or sunlight.

WARNING

An inappropriately disposed battery can be harmful to the environment and human health.
Dispose the battery according to your local law(s) or regulation.
NOTICE The transmitter will not work if any of following occur: The ignition key is in ignition switch. You exceed the operating distance limit (about 90 feet [30 m]). The battery in the tra ...
See also:
Cargo area cover
Use the cover to hide items stored in the cargo area. The cargo area cover will be lifted when the tailgate is opened. Disconnect the strap (1) from holder if you want to return the cover to orig ...
Tightening Torques
Item kgf.m N.m lb-ft Positive crankcase ventilation valve installation 0.8 ~ 1.2 7.8 ~ 11.8 5.8 ~ 8.7 ...
Troubleshooting
Troubleshooting Symptom Possible cause Remedy Hard steering Improper front wheel alignment Excessive turning resistance of lower ar ...