Description
Continuous Variable Valve Timing (CVVT) system advances or retards the valve timing of the intake and exhaust valve in accordance with the ECM control signal which is calculated by the engine speed and load.
By controlling CVVT, the valve over-lap or under-lap occurs, which makes better fuel economy and reduces exhaust gases (NOx, HC) and improves engine performance through reduction of pumping loss, internal EGR effect, improvement of combustion stability, improvement of volumetric efficiency, and increase of expansion work.
-the CVVT Oil Control Valve (OCV) which supplies the engine oil to the cam phaser or cuts the engine oil from the cam phaser in accordance with the ECM PWM (Pulse With Modulation) control signal,
- the CVVT Oil Temperature Sensor (OTS) which measures the engine oil temperature,
-and the Cam Phaser which varies the cam phase by using the hydraulic force of the engine oil.
The engine oil getting out of the CVVT oil control valve varies the cam phase in the direction (Intake Advance/Exhaust Retard) or opposite direction (Intake Retard/Exhaust Advance) of the engine rotation by rotating the rotor connected with the camshaft inside the cam phaser.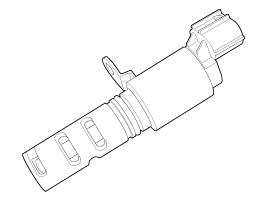 • Install the component with the specified torques. • ...
Specification Item Specification Coil Resistance (Ω) 6.9 ~ 7.9 [20°C(68°F)] ...
See also:
Installation
1. Remove the ignition key from the vehicle. 2. Disconnect the battery negative cable from battery and wait for at least three minutes befo ...
Light bulbs
WARNING - Working on the lights Prior to working on the light, firmly apply the parking brake, ensure that the ignition switch is turned to the LOCK position and turn off the lights to avoid sud ...
Installation
1. Installation is reverse of removal. In the case of the vehicle equipped wi ...