Hyundai Accent: Description
The Electronic Throttle Control (ETC) System consists of a throttle body with an integrated control motor and throttle position sensor (TPS). Instead of the traditional throttle cable, an Accelerator Position Sensor (APS) is used to receive driver input. The ECM uses the APS signal to calculate the target throttle angle; the position of the throttle is then adjusted via ECM control of the ETC motor. The TPS signal is used to provide feedback regarding throttle position to the ECM. Using ETC, precise control over throttle position is possible; the need for external cruise control modules/cables is eliminated.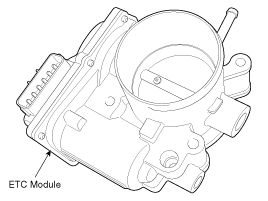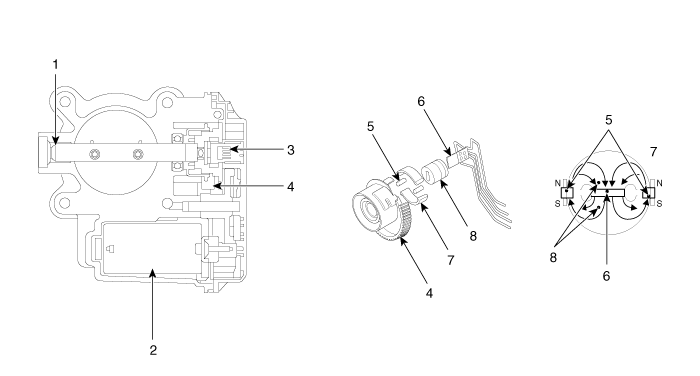 1. Dry bearing




2. DC motor




3. Non-contact hall sensor




4. Gear




5. Magnet




6. Hall IC




7. Yoke




8. Stator



See also:
Coolant. Repair procedures
Refilling And Bleeding Never remove the radiator cap when the engine is hot. Serious scalding could be caused by hot fluid und ...
Installation
If reinstalling used cover, the cover should be installed with its clutch disc as a set. 1. Re ...
SRS Care
The SRS is virtually maintenance-free and so there are no parts you can safely service by yourself. If the SRS air bag warning light "" does not illuminate, when you turn the ignition on ...
Categories
Hyundai Accent Manuals
© 2011-2019 Copyright www.hamanual.com