Hyundai Accent: Description
The Electronic Throttle Control (ETC) System consists of a throttle body with an integrated control motor and throttle position sensor (TPS). Instead of the traditional throttle cable, an Accelerator Position Sensor (APS) is used to receive driver input. The ECM uses the APS signal to calculate the target throttle angle; the position of the throttle is then adjusted via ECM control of the ETC motor. The TPS signal is used to provide feedback regarding throttle position to the ECM. Using ETC, precise control over throttle position is possible; the need for external cruise control modules/cables is eliminated.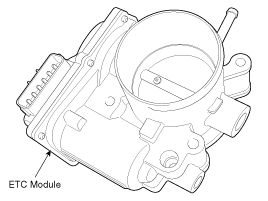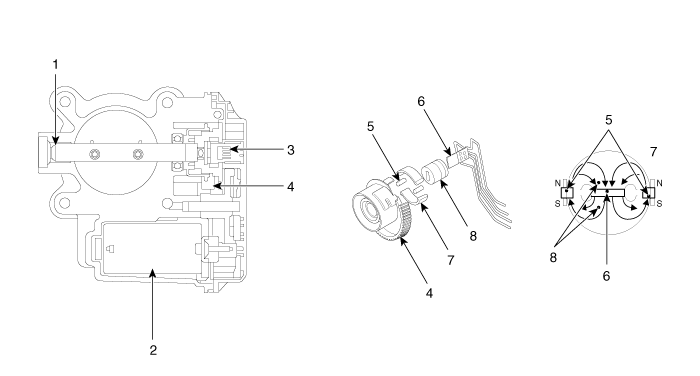 1. Dry bearing




2. DC motor




3. Non-contact hall sensor




4. Gear




5. Magnet




6. Hall IC




7. Yoke




8. Stator



See also:
Removable towing hook
1. Open the trunk lid/tailgate, and remove the towing hook from the tool case. 2. Remove the hole cover pressing the lower part of the cover on the bumper. 3. Install the towing hook by turning it ...
Emergency Towing
There are three popular methods of towing a vehicle : - The operator loads the vehicle on the back of truck. This is best way of transporting the vehicle. ...
Removal
Replacing an on/off solenoid valve (SS-A, SS-B) does not require additional hydraulic pressure adjustment; however, the hydraul ...
Categories
Hyundai Accent Manuals
© 2011-2019 Copyright www.hamanual.com