Description
The starting system includes the battery, starter, solenoid switch, inhibitor switch (A/T), ignition switch, ignition lock switch, connection wires and the battery cable.
When the ignition key is turned to the start position, current flows and energizes the starter motor's solenoid coil.
The solenoid plunger and clutch shift lever are activated, and the clutch pinion engages the ring gear.
The contacts close and the starter motor cranks. In order to prevent damage caused by excessive rotation of the starter armature when the engine starts, the clutch pinion gear overruns.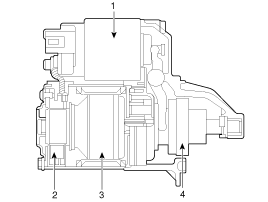 1. Solenoid
2. Brush
3. Armature
4. Overrun clutch
Troubleshooting Starter Circuit The battery must be in good condition and fully charged. 1. ...
See also:
Windshield Glass. Repair procedures
Replacement Removal • Put on gloves to protect your hands. ...
Using the Tire Mobility Kit
1. Detach the speed restriction label (0) from the sealant bottle (1), and place it in a highly visible place inside the vehicle such as on the steering wheel to remind the driver not to drive too ...
General Information
General Troubleshooting Information Before Troubleshooting 1. Check applicable fuses in the appropriate fuse/relay box. 2. Check the batte ...