Description
Engine Coolant Temperature Sensor (ECTS) is located in the engine coolant passage of the cylinder head for detecting the engine coolant temperature. The ECTS uses a thermistor that changes resistance with the temperature.
The electrical resistance of the ECTS decreases as the temperature increases, and increases as the temperature decreases. The reference +5V is supplied to the ECTS via a resistor in the ECM. That is, the resistor in the ECM and the thermistor in the ECTS are connected in series. When the resistance value of the thermistor in the ECTS changes according to the engine coolant temperature, the output voltage also changes.
During cold engine operation, the ECM increases the fuel injection duration and controls the ignition timing using the information of engine coolant temperature to avoid engine stalling and improve drivability.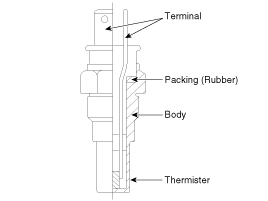 Inspection 1. Turn the ignition switch OFF. 2. Disconnect the IATS connector. 3. Measure resistance between th ...
Specification Temperature Resistance (kΩ) °C °F -40 -40 48.14 -20 -4 ...
See also:
Closing the fuel filler lid
1. To install the cap, turn it clockwise until it "click" one time. This indicates that the cap is securely tightened. 2. Close the fuel filler lid and push it in lightly making sure that it is sec ...
Brake Booster Operating Test
For simple checking of the brake booster operation, carry out the following tests. 1. Run the engine for one or two minutes, and then stop it. If the pedal depresses ...
Light bulbs
WARNING - Working on the lights Prior to working on the light, firmly apply the parking brake, ensure that the ignition switch is turned to the LOCK position and turn off the lights to avoid sud ...