Description
Rail Pressure Sensor (RPS) is installed on the delivery pipe and measures the instantaneous fuel pressure in the delivery pipe. The sensing element (Semiconductor element) built in the sensor converts the pressure to voltage signal. By using this signal, the ECM can control correct injection amount and timing and adjusts the fuel pressure with the fuel pressure regulator valve if the target pressure and the actual pressure calculated by the RPS output signal are different.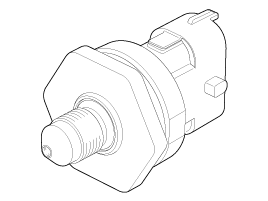 Х Install the component with the specified torques. Х ...
See also:
Description and Operation
Description Emissions Control System consists of three major systems. Х The Crankcase Emission Control System prevents blow-by gas from releasing into the atmosphere. Thi ...
Troubleshooting
Troubleshooting 1. The lamp switch inputs can be checked using the GDS. 2. To check the input value of lamp switch, select option "Body Co ...
Inspection
1. Turn ignition switch OFF. 2. Disconnect the oil temperature sensor connector. 3. Measure resistance between ...
Categories
Hyundai Accent Manuals
© 2011-2019 Copyright www.hamanual.com