Hyundai Accent: Tilting the sunroof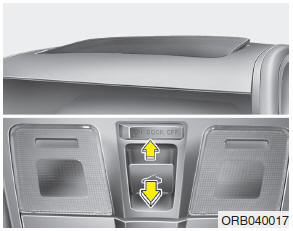 To open the sunroof
Push the sunroof control lever upward until the sunroof moves to the desired position.
To close the sunroof
Pull the sunroof lever downward until the sunroof moves to the desired position.

WARNING - Sunroof
Be careful that someone's head, hands and body are not trapped by a closing sunroof.
Do not extend face, neck, arms or body outside through the sunroof opening while driving.
Make sure hand and face are safely out of the way before closing a sunroof.

CAUTION
Periodically remove any dirt that may accumulate on the guide rail.
If you try to open the sunroof when the temperature is below freezing or when the sunroof is covered with snow or ice, the glass or the motor could be damaged.
While using sunroof for a long time, a dust between sunroof and roof panel can make a noise. Open the sunroof and regularly remove the dust using clean cloth.
To open or close the sunroof (manual slide feature), pull or push the sunroof control lever backward or forward to the first detent position. To open the sunroof (autoslide feature), press the su ...
The sunshade will be opened with the glass panel automatically when the glass panel is opened. You will have to close it manually if you want it closed. CAUTION The sunroof is made to slide tog ...
В© 2011-2020 Copyright www.hamanual.com