Description
Manifold Absolute Pressure Sensor (MAPS) is a speed-density type sensor and is installed on the surge tank. It senses absolute pressure of the surge tank and transfers the analog signal proportional to the pressure to the ECM. By using this signal, the ECM calculates the intake air quantity and engine speed.
The MAPS consists of a piezo-electric element and a hybrid IC amplifying the element output signal. The element is silicon diaphragm type and adapts pressure sensitive variable resistor effect of semi-conductor. Because 100% vacuum and the manifold pressure apply to both sides of the sensor respectively, this sensor can output analog signal by using the silicon variation proportional to pressure change.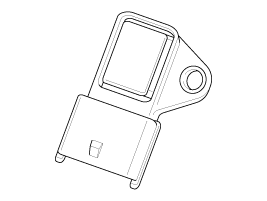 ETC module learning procedure When installing new ETC module or re-installing it, ETC module learning procedure must be performed. 1. Hold the ignition k ...
Specification Pressure [kPa (kgf/cm², psi)] Output Voltage (V) 20.0 (0.20, 2.9) 0.79 46.7 (0.47, 6.77) 1.84 ...
See also:
Driving your vehicle
WARNING - ENGINE EXHAUST CAN BE DANGEROUS! Engine exhaust fumes can be extremely dangerous. If, at any time, you smell exhaust fumes inside the vehicle, open the windows immediately. Do not in ...
Emergency Towing
There are three popular methods of towing a vehicle : - The operator loads the vehicle on the back of truck. This is best way of transporting the vehicle. ...
Steering Gear box. Components and Components Location
Components 1. Tie-rod end 2. Lock nut 3. Bellows clip 4. Bellows 5. Tie rod 6. Rack bar 7. Dust packing 8. Dust cap 9. Oil seal 10. Pinion plug ...