Description
Manifold Absolute Pressure Sensor (MAPS) is a speed-density type sensor and is installed on the surge tank. It senses absolute pressure of the surge tank and transfers the analog signal proportional to the pressure to the ECM. By using this signal, the ECM calculates the intake air quantity and engine speed.
The MAPS consists of a piezo-electric element and a hybrid IC amplifying the element output signal. The element is silicon diaphragm type and adapts pressure sensitive variable resistor effect of semi-conductor. Because 100% vacuum and the manifold pressure apply to both sides of the sensor respectively, this sensor can output analog signal by using the silicon variation proportional to pressure change.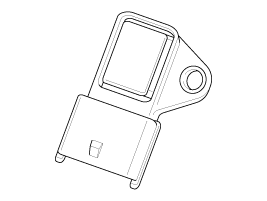 ETC module learning procedure When installing new ETC module or re-installing it, ETC module learning procedure must be performed. 1. Hold the ignition k ...
Specification Pressure [kPa (kgf/cm², psi)] Output Voltage (V) 20.0 (0.20, 2.9) 0.79 46.7 (0.47, 6.77) 1.84 ...
See also:
SS-B Solenoid Valve(ON/OFF). Schematic Diagrams
Circuit Diagram ...
Filter inspection
The climate control air filter should be replaced according to the Maintenance Schedule. If the vehicle is operated in severely air-polluted cities or on dusty rough roads for a long period, it sh ...
Washer fluid
Checking the washer fluid level The reservoir is translucent so that you can check the level with a quick visual inspection. Check the fluid level in the washer fluid reservoir and add fluid if ...
Categories
Hyundai Accent Manuals
© 2011-2019 Copyright www.hamanual.com