Hyundai Accent: Specifications
Items




Specification




Fuel Tank




Capacity




43 lit. (11.4 U.S.gal., 45.4 U.S.qt., 37.8 Imp.qt.)




Fuel Filter




Type




Paper type




Fuel Pressure




Low Pressure Fuel Line




429 ~ 469 kPa (4.38 ~ 4.79 kgf/cm², 62.3 ~ 68.1 psi)




High Pressure Fuel Line




2.0 ~ 15.0 MPa (20.4 ~ 153.0 kgf/cm², 290.1 ~ 2175.6 psi)




Fuel Pump




Type




Electrical, in-tank type




Driven by




Electric motor




High Pressure Fuel Pump




Type




Mechanical type




Driven by




Camshaft



Manifold Absolute Pressure Sensor (MAPS)
▷ Type: Piezo-resistive pressure sensor type
Pressure




[kPa (kgf/cm², psi)]




Output Voltage (V)




20.0 (0.20, 2.9)




0.79




46.7 (0.47, 6.77)




1.84




101.3 (1.03, 14.7)




4.0



Intake Air Temperature Sensor (IATS)
Temperature




Resistance (kΩ)




°C




°F




-40




-40




40.93 ~ 48.35




-20




-4




13.89 ~ 16.03




0




32




5.38 ~ 6.09




10




50




3.48 ~ 3.90




20




68




2.31 ~ 2.57




40




104




1.08 ~ 1.21




50




122




1.56 ~ 1.74




60




140




0.54 ~ 0.62




80




176




0.29 ~ 0.34



Engine Coolant Temperature Sensor (ECTS)
Temperature




Resistance (kΩ)




°C




°F




-40




-40




48.14




-20




-4




14.13 ~ 16.83




0




32




5.79




20




68




2.31 ~ 2.59




40




104




1.15




60




140




0.59




80




176




0.32



Throttle Position Sensor (TPS) [integrated into ETC module]
▷ Type: Hall IC Non-contact sensor type
Throttle angle(°)




Output Voltage (V)




TPS1




TPS2




0




0.5




4.5




10




0.96




4.05




20




1.41




3.59




30




1.87




3.14




40




2.32




2.68




50




2.78




2.23




60




3.23




1.77




70




3.69




1.32




80




4.14




0.86




90




4.6




0.41




98




4.65




0.35




C.T (0)




0.5




4.5




W.O.T (86)




4.41




0.59



Crankshaft Position Sensor (CKPS)
▷ Type: Magnetic field sensitive Type
| | |
| --- | --- |
| Item | Specification |
| Coil Resistance (Ω) | 774 ~ 946 [20°C (68°F)] |
Camshaft Position Sensor (CMPS)
▷ Type: Piezo-electricity type
| | |
| --- | --- |
| Item | Specification |
| Capacitance (pF) | 950 ~ 1,350 |
| Resistance(MΩ) | 4.87 |
Heated Oxygen Sensor (HO2S) [Bank 1/Sensor 1]
▷ Type: Zirconia (ZrO2) [Linear] Type
| | |
| --- | --- |
| Item | Specification |
| Heater Resistance (Ω) | 2.4 ~ 4.0 [20°C(69.8°F)] |
Heated Oxygen Sensor (HO2S) [Bank 1/Sensor 2]
▷ Type: Zirconia (ZrO2) [Binary] Type
| | |
| --- | --- |
| A/F Ratio (λ) | Output Voltage(V) |
| RICH | 0.6 ~ 1.0 |
| LEAN | 0 ~ 0.4 |
| | |
| --- | --- |
| Item | Specification |
| Heater Resistance (Ω) | Approx. 9.0 [21°C(69.8°F)] |
Rail Pressure Sensor (RPS)
▷ Type: Piezo-electricity type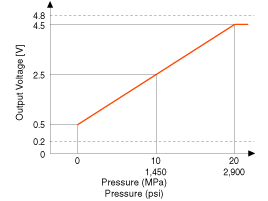 Accelerator Position Sensor (APS)
▷ Type: Variable resistor type
Accelerator




Position




Output Voltage (V)




APS1




APS2




C.T




0.7 ~ 0.8




0.275 ~ 0.475




W.O.T




3.8 ~ 4.4




1.75 ~ 2.35



Fuel Tank Pressure Sensor (FTPS)
▷ Type: Piezo - Resistivity type
Pressure




[kPa (kgf/cm², in H2O)




Output Voltage (V)




-6.67 (-0.068, -26.8)




0.5




0




2.5




+6.67 (0.068, 26.8)




4.5



| | |
| --- | --- |
| Item | Specification |
| Coil Resistance (Ω) | 1.5 [20°C(68°F)] |
ETC Motor [integrated into ETC Module]
| | |
| --- | --- |
| Item | Specification |
| Coil Resistance (Ω) | 0.3 ~ 100 [20°C(68°F)] |
Purge Control Solenoid Valve (PCSV)
| | |
| --- | --- |
| Item | Specification |
| Coil Resistance (Ω) | 22.0 ~ 26.0 [20°C(68°F)] |
CVVT Oil Control Valve (OCV)
| | |
| --- | --- |
| Item | Specification |
| Coil Resistance (Ω) | 6.9 ~ 7.9 [20°C(68°F)] |
Variable Intake Solenoid (VIS) Valve
| | |
| --- | --- |
| Item | Specification |
| Coil Resistance (Ω) | 30.0 ~ 35.0 [20°C(68°F)] |
Fuel Pressure Regulator Valve
| | |
| --- | --- |
| Item | Specification |
| Coil Resistance (Ω) | 0.5 [20°C(68°F)] |
| | |
| --- | --- |
| Item | Specification |
| Primary Coil Resistance (Ω) | 0.75 ± 15%[20°C(68°F)] |
| Secendary Coil Resistance (kΩ) | 5.9 [20°C(68°F)] |
Canister Close Valve (CCV)
| | |
| --- | --- |
| Item | Specification |
| Coil Resistance (Ω) | 19.8 ~ 20.8 (20°C) |
Item Specification Ignition Timing (°) BTDC 3 ± 10 Idle Speed (rpm) A/C OFF Neutral, N, P-range ...
See also:
Engine compartment
1. Engine coolant reservoir 2. Windshield washer fluid reservoir 3. Radiator cap 4. Engine oil filler cap 5. Engine oil dipstick 6. Brake/clutch fluid reservoir 7. Air cleaner 8. Fuse box 9. ...
Input/Output Specification
...
Rocking the vehicle
If it is necessary to rock the vehicle to free it from snow, sand, or mud, first turn the steering wheel right and left to clear the area around your front wheels. Then, shift back and forth betwe ...