Description
Knocking is a phenomenon characterized by undesirable vibration and noise and can cause engine damage. Knock Sensor (KS) is installed on the cylinder block and senses engine knocking.
When knocking occurs, the vibration from the cylinder block is applied as pressure to the piezoelectric element. When a knock occurs, the sensor produces voltage signal. The ECM retards the ignition timing when knocking occurs. If the knocking disappears after retarding the ignition timing, the ECM will advance the ignition timing. This sequential control can improve engine power, torque and fuel economy.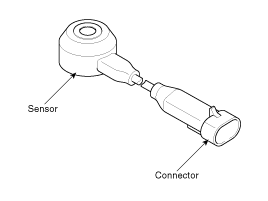 • Install the component with the specified torques. • ...
Specification Item Specification Capacitance (pF) 950 ~ 1,350 Resistance (MΩ) 4.87 ...
See also:
Coolant. Repair procedures
Refilling And Bleeding Never remove the radiator cap when the engine is hot. Serious scalding could be caused by hot fluid und ...
CVVT Oil Control Valve (OCV). Description and Operation
Description Continuous Variable Valve Timing (CVVT) system advances or retards the valve timing of the intake and exhaust valve in accordance with the ECM control signal which is calculated ...
Owner maintenance schedule
When you stop for fuel: Check the engine oil level. Check coolant level in coolant reservoir. Check the windshield washer fluid level. Look for low or under-inflated tires. Check the radia ...
Categories
Hyundai Accent Manuals
© 2011-2019 Copyright www.hamanual.com