Description
Knocking is a phenomenon characterized by undesirable vibration and noise and can cause engine damage. Knock Sensor (KS) is installed on the cylinder block and senses engine knocking.
When knocking occurs, the vibration from the cylinder block is applied as pressure to the piezoelectric element. When a knock occurs, the sensor produces voltage signal. The ECM retards the ignition timing when knocking occurs. If the knocking disappears after retarding the ignition timing, the ECM will advance the ignition timing. This sequential control can improve engine power, torque and fuel economy.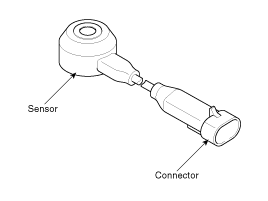 • Install the component with the specified torques. • ...
Specification Item Specification Capacitance (pF) 950 ~ 1,350 Resistance (MΩ) 4.87 ...
See also:
Maintenance under severe usage conditions
The following items must be serviced more frequently on cars normally used under severe driving conditions. Refer to the chart below for the appropriate maintenance intervals. R : Replace I : I ...
Removal
1. Disconnect the negative (-) battery terminal. 2. Remove the steering column upper and lower shrouds. (Refer to the ST group - & ...
Description
Keyless Entry System The keyless entry system allows you to lock and unlock the vehicle with the remote transmitter. When you push the LOCK button, all doors lock. When you push the UNLO ...
Categories
Hyundai Accent Manuals
© 2011-2019 Copyright www.hamanual.com