Description
Knocking is a phenomenon characterized by undesirable vibration and noise and can cause engine damage. Knock Sensor (KS) is installed on the cylinder block and senses engine knocking.
When knocking occurs, the vibration from the cylinder block is applied as pressure to the piezoelectric element. When a knock occurs, the sensor produces voltage signal. The ECM retards the ignition timing when knocking occurs. If the knocking disappears after retarding the ignition timing, the ECM will advance the ignition timing. This sequential control can improve engine power, torque and fuel economy.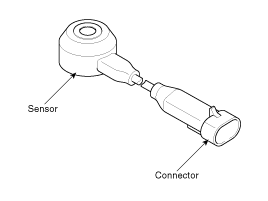 • Install the component with the specified torques. • ...
Specification Item Specification Capacitance (pF) 950 ~ 1,350 Resistance (MΩ) 4.87 ...
See also:
Sunshade
The sunshade will be opened with the glass panel automatically when the glass panel is opened. You will have to close it manually if you want it closed. CAUTION The sunroof is made to slide tog ...
Removal
In case of removing the high pressure fuel pump, high pressure fuel pipe, delivery pipe, and injector, there may be injury ...
Categories
Hyundai Accent Manuals
© 2011-2019 Copyright www.hamanual.com